Assign and Unassign Courses
During the course of the year, you may want to adjust the level of training an employee has or assign them an extra course (e.g., you would like your employees to take the VENZA Covid-19 course available to all users for free). Or maybe one of your employees got promoted, and they need to complete more advanced training.
We are happy to help with that! Although the Assign/Unassign Courses function is available to you through the Manage drop-down menu, we recommend contacting your dedicated VENZA Customer Success Representative or reaching out to us through tickets@venzagroup.com for assistance.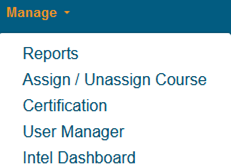 Please keep in mind you can permanently delete an employee's training history or duplicate their learning path when assigning and unassigning courses. Let us know what changes you are looking for, and we will be happy to make them for you. We can also organize a collaborative work session to show you what to be careful about, what to avoid, and how to correctly assign new training.